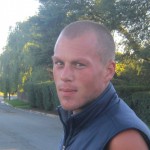 I was alone, in a psychiatric ward and had absolutely no one to speak to. How did I get here?"
My name is Brad Whittingham.  I am 24 years old. I am a recovering drug addict and I am living with HIV.
By the end of 2010 my life had turned into a spiralling ball of pain and destruction:  I was battling drug addiction and my will to carry on living was fading fast.  In January 2011 I decided to commit suicide.  My chosen method: a drug overdose.
Read Brad's frank and compelling story of overcoming his addiction and how running helps him to stay positive!